Episodes
Monday Nov 01, 2021
Monday Nov 01, 2021
In Yasmin Angoe contemporary debut thriller, HER NAME IS KNIGHT, an elite assassin heroine on a mission to topple a human trafficking ring and avenge her family.
Stolen from her Ghanaian village as a child, Nena Knight has plenty of motives to kill. Now an elite assassin for a powerful business syndicate called the Tribe, she gets plenty of chances.
But while on assignment in Miami, Nena ends up saving a life, not taking one. She emerges from the experience a changed woman, finally hopeful for a life beyond rage and revenge. Tasked with killing a man she's come to respect, Nena struggles to reconcile her loyalty to the Tribe with her new purpose.
Meanwhile, she learns a new Tribe council member is the same man who razed her village, murdered her family, and sold her into captivity. Nena can't resist the temptation of vengeance—and she doesn't want to. Before she can reclaim her life, she must leverage everything she was and everything she is to take him down and end the cycle of bloodshed for good.
Yasmin and I discuss how and when the premise came to her; how family is embedded deeply in the story—both in its plot and as inspiration for the concept—and why women as assassin protagonists are finally enjoying acceptance: from publishing editors and readers.
Monday Jun 28, 2021
Monday Jun 28, 2021
In the novel, CHOOSE ME, prolific authors Tess Gerritsen and Gary Braver have collaborated on a thriller that introduces Frankie Loomis, a tough-as-nails police detective whose investigation of a college student's fatal plunge from a balcony is so finely layered with possible suspects that it will keep you guessing until the end if it was suicide or a murder.
Tess and Gary discuss why they enjoyed the collaboration; why it was great to see how each approached dialogue—both the men's and women's—from each other's points of view; and why they chose to make Frankie a woman of a certain age.
We also discuss two very important issues specific to authors: when using a pen name works well; and why the laws that protect Intellectual Property need to be strengthened, especially in circumstances when novels are adapted to movies or television.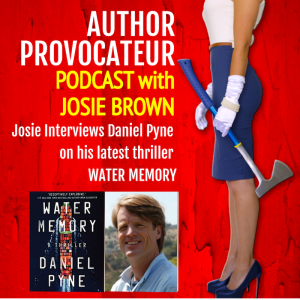 Monday Feb 01, 2021
Monday Feb 01, 2021
In prolific screenwriter Daniel Pyne's latest thriller, WATER MEMORY—Black Ops specialist Aubrey Sentro may be one concussion away from death. But when pirates seize the cargo ship she's on, she must decide whether to risk her life to save her fellow passengers.
As she plays their deadly game of cat and mouse, she pushes herself to survive by focusing on thoughts of her children. She's never told them what she really does for a living, and now she might not get the chance.
While her memories make her vulnerable, motherhood makes her dangerous.
Daniel and I also discuss his process for writing the novel his first series, and the similarities and differences between writing for film and television  as opposed to novels.